Online Medical Marijuana Registration and Cards in New York State
Sponsored Content - Want to register for New York's medical marijuana program, but not sure how? A new service let's you complete the entire process online, from home!
California has come up with a lot of great ideas like the Hula Hoop, the Barbie Doll, and the Egg McMuffin, but the greatest idea from the Golden State is just now hitting the Empire State -
New York medical marijuana cards
!
Now, New Yorkers can get a doctor's recommendation and examination online from the privacy of their own home on a laptop, PC or smartphone, thanks to NuggMD.
The company has been helping connect medical marijuana patients with cannabis-friendly doctors and medical marijuana dispensaries on the West Coast for nearly three years, and they have just rolled out their mmj telemedicine platform in New York State.
Look how easy NuggMD makes getting your medical marijuana card online:
If you are a legal resident of New York State with a state issued ID card, you can go to NuggMD's website and sign up.
After filling out a basic medical questionnaire to expedite the online
420 evaluation
, you will be connected with a licensed
NY medical marijuana doctor
via video conference for about 5 to 10 minutes. The doctor may recommend specific cannabis products and dosage for your condition, and you are free to ask the doctor anything you want. If you are approved, you'll receive an email from the New York State Medical Marijuana program confirming your registration, and NuggMD will help you obtain the actual medical marijuana card. Total cost is $199 for first-time patients and your certificate is valid for one year, after which each 12-month renewal will set you back $99. If you are not approved, you pay nothing. Zero.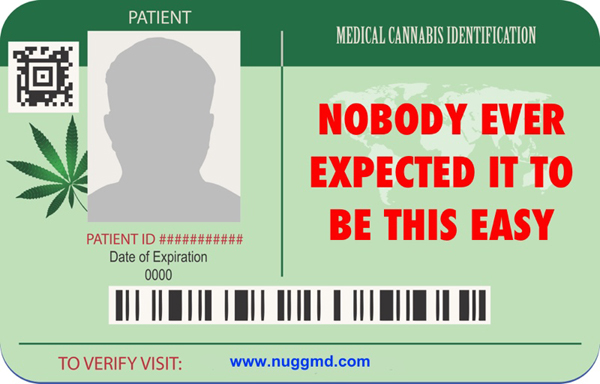 The New York medical marijuana laws are brand new, changing rapidly, and sometimes confusing to navigate. That's exactly why you need
NuggMD
to help you stay on top of the latest developments. In order to qualify for a NY medical marijuana card, you'll need a valid reason for cannabis treatment, and unlike other medical marijuana states, the list of qualifying medical conditions is a short list. Only the following conditions and diseases are eligible for the state medical marijuana program:
• Multiple Sclerosis
• Cancer
• AIDS
• HIV Positive Status
• Inflammatory Bowel Disease
• Parkinson's Disease
• Chronic Pain
• Epilepsy
• Lou Gehrig's Disease (ALS)
• Spasticity
• Huntington's Disease
• Neuropathies
Don't waste your time searching for "
cannabis doctor evaluations near me
," or spend hours driving to a doctor's office and waiting for an in-person examination in a crowded room. Trust NuggMD to help you get legal in New York. Over 60,000 Californians can't be wrong – NuggMD is the easiest and cheapest way to get your medical marijuana credentials, and soon they'll help you access legal
medical marijuana delivery
in NY!
Sign up today, and get access to the wide range of cannabis products on the market -- edibles,
vape cartridges
, flowers, tinctures, oils, rubs, and more!
Comments
MUST READ NEWS
VIDEOS
---