Pedestrian safety in focus at West End and 70th
Dangers of intersection draw scrutiny after fatality
Photos
Traffic enforcement will be "ramped up, especially as the weather gets warm and we have more and more pedestrians out there."
NYPD Captain Timothy Malin, 20th Precinct
Community Board 7 is discussing measures to improve safety at West 70th Street and West End Avenue after a pedestrian was struck and killed by a vehicle at the busy Upper West Side crossing earlier this month.
An 85-year-old woman died on the morning of May 3 after she was hit by a Jeep as she attempted to cross West End at 70th Street. Police and residents discussed the incident and safety issues at the intersection at a meeting of the community board's transportation committee on May 8.
Though the fatal incident is still under NYPD investigation, Captain Thomas Palmer of the 20th Precinct, which covers the Upper West Side between 59th and 86th Streets, said video evidence shows that the woman crossed against the light and did not have the right of way.
The motorist, who stayed at the scene and cooperated with police, had been traveling north on West End Avenue. The driver stopped at a red light at 70th Street, proceeded through the intersection after the light turned green and hit the pedestrian in the opposite crosswalk. "I wouldn't expect that that person was traveling at an excessive rate of speed, because they had just started from a stop," Palmer said. "It was just unfortunate that the woman attempted to make it across the street in that short amount of time."
"Unfortunately the motorist just didn't see her," he added.
According to NYPD data, the collision was the fifth to date this year at the intersection, which has four lanes of north-south traffic on West End Avenue, with vehicles traveling in either direction permitted to make left and right turns off the avenue. Pedestrian traffic is often heavy, especially in the morning and afternoon as students walk to and from P.S. 199 nearby on 70th Street.
Three pedestrians and one bicyclist were injured in collisions at 70th Street and West End Avenue last year. Roberta Semer, the chair of Community Board 7, lives nearby and said the intersection has been persistently dangerous. "Over the last 20 or 25 years there's probably been four or five fatalities on or near that corner, all involving seniors," Semer said.
Cars traveling south on West End and turning right onto 70th Street create a particularly hazardous situation for walkers, Semer said. "They don't see the pedestrians in the crosswalk," she said. "I have almost been hit on several occasions."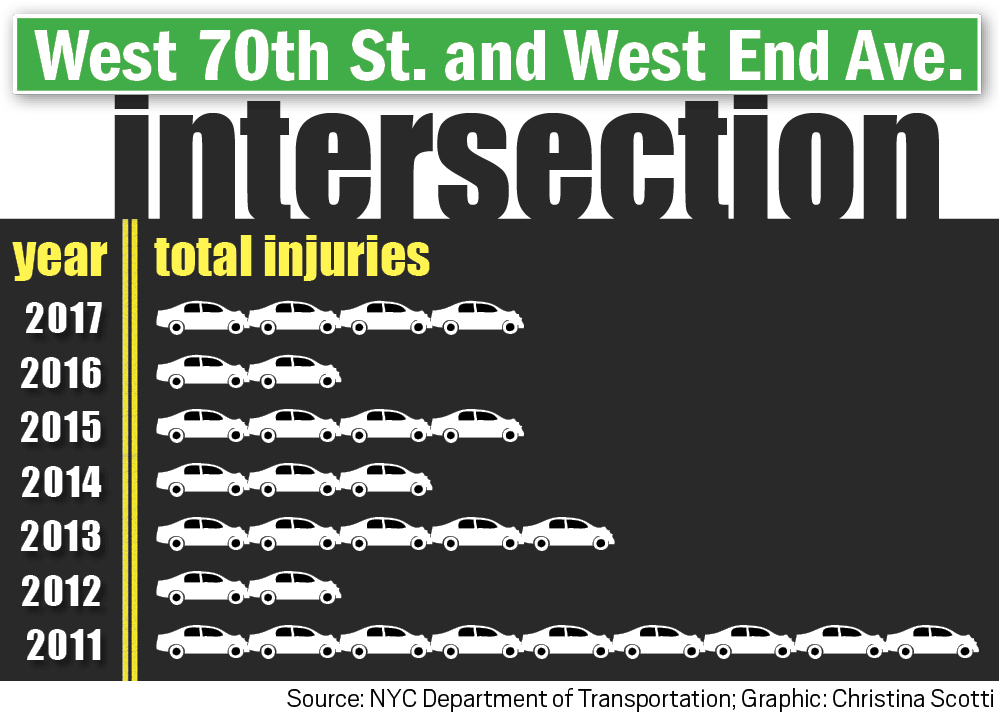 Semer believes the location should be considered for expanded "daylighting," a pedestrian safety measure wherein the Department of Transportation removes parking spots and institutes no standing zones near corners to improve sightlines and make pedestrians more visible to turning motorists. Currently, daylighting is in effect from 7 a.m. to 10 a.m. at the corner.
Andrew Albert, the transportation committee's co-chair, said that an exclusive turn signal for vehicles at the intersection could also be beneficial, as it would reduce the potential for collisions between turning vehicles and pedestrians crossing simultaneously.
A Department of Transportation official at the meeting said the agency would be happy to participate in neighborhood outreach and examine possible changes to daylighting and signal timing at the intersection.
West End Avenue accounts for "a disproportionate amount of summonses" written in the 20th Precinct, Captain Timothy Malin said, "mainly because it's a high residential zone with a lot of pedestrians."
NYPD traffic enforcement, Malin said, will be "ramped up, especially as the weather gets warm and we have more and more pedestrians out there." Police have visited senior centers to educate locals about safe crossing practices, and Malin said they would extend their outreach to residential buildings and schools, at the community board's request.
A school crossing guard at 70th and West End said that she is "amazed there's not more accidents" at the intersection, as she helped students cross on a recent afternoon. "We need something done immediately," she said.
The crossing guard, who declined to give her name, said that she hopes for increased automated camera enforcement, which would require state authorization. "We need cameras," she said. "The cars have no respect for the speed limit. They break red lights all the time."
As previously reported in the West Side Spirit, unauthorized commercial traffic is a regular presence on West End Avenue. Trucks and other commercial vehicles are not permitted to travel on West End unless it is necessary in order to arrive at their destination. But in spite of the ban, residents frequently complain of charter buses, 18-wheelers, and other commercial vehicles using the avenue as a thoroughfare.
Ten percent of truck collisions in the 20th Precinct take place on West End Avenue, according to police. The avenue also accounts for a quarter of all commercial moving summonses issued in the precinct.
Malin said the NYPD will work to address commercial traffic on West End, adding that the precinct will contact Academy Bus, a company whose vehicles have been photographed using the avenue in apparent violation of traffic laws. "That's low-hanging fruit," he said. "We should be able to make some progress there."
Is there a particularly dangerous intersection in your neighborhood? Tell us about it: reporter@strausnews.com
Comments
MUST READ NEWS
VIDEOS
---